JFOLD Functions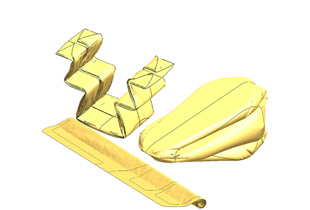 Building an airbag model with intuitive and interactive tools and flow-charted process management
JFOLD manages the complicated folding process with a flowchart, in a tree view. Users can build, manage, and view the airbag models in various folding patterns. The intuitive and interactive GUI facilitates the operation of defining the position and behavior of the folding tools.
Functions
View and modify the action types for tool setting

Set and modify the tool translation, rotation, folding, roll folding, and load arrangement. Users can see the action type determined for the tool.

Positioning and resizing with mouse operations

Users can easily move and resize the tool mesh using mouse operations.

Preview of the tool mesh behavior

By using the preview feature, the animation of the tool mesh behavior can be displayed prior to a run as an LS-DYNA simulation.
Airbag-folding process management using a flowchart (tree view)

JFOLD manages the complicated folding process using a flowchart, in a tree view. One step corresponds to one calculation for the folding simulation. Each calculation result can be transferred to the subsequent calculation to achieve the final folded geometry. Users can try various folding patterns with the branched folding processes.

Airbag sewing simulation for the 3D airbag

An airbag is fabricated by sewing parts of cut out fabric. A three-dimensional (3D) passenger airbag is fabricated using 3D sewing. CAD for 3D geometry is not (generally) created. JFOLD can perform 3D sewing simulations for building 3D airbag models.
Supported platforms
Software *
Oasys Ltd. software version 17
(PRIMER : required, D3PLOT : recommended)
OS

Windows 10 (64-bit)
Red Hat Enterprise Linux 6.x, 7.x (64-bit)

Display resolution
High resolution recommended (1920 × 1200, 1600 × 1200, and above)
License types
A node lock license or a floating license.
* JFOLD requires licenses for Oasys Ltd. software and LS-DYNA.
*Product names and service names are the trademarks or the registered trademarks of their proprietors.