J-SEATdesigner Features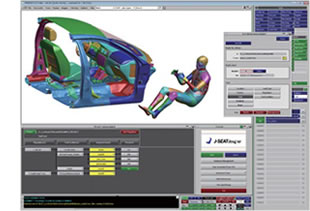 LS-DYNA preprocessor for seat design with data management and auto assembling
The recent automotive crash simulation is associated with a direct evaluation of the dummy injury criteria. Appropriate setups for a seat model and/or restraints are required to improve the accuracy of that evaluation.
J-SEATdesigner (JSD) manages various simulation cases with the model files in the database and auto assembles appropriate models based on the determined conditions. A wide range of regulations/assessments stored in the database can be loaded instead of the user input value. Measurement of H-points and pre-simulations including seating simulation are also available.
In the automotive crash simulation, the model becomes complicated and large to achieve a more accurate result. J-SEATdesigner is a powerful integrated system for seat design, supporting design engineers' challenges.
Database management: Models and the assembly data
For automotive crash simulation, the dummy-boundary condition combinations that meet the assessments must be managed properly. J-SEATdesigner works in cooperation with an object-oriented relational database to manage the models and the associated data required for auto assembling. Users can access the database via the J-SEATdesigner GUI to read models and add/remove/rename/save auto-assembly data.
Model auto assembling
Loading a pre-defined model Assembly information will automatically perform the procedures for assembling models: reading models from the database, positioning each model, defining contacts/connections, positioning dummies and seats, fitting seatbelts, and Import pre-simulation results (see "Functions" for details). The assembled model can be output in LS-DYNA input file format.
Assembly information creation
The assembly infromation for the auto-assembling model is created via the J-SEATdesigner GUI, which was developed based on the GUI of ARUP software PRIMER. The J-SEATdesigner GUI consists of the project management, tool kit, and DB management panels. This easy setting and user-friendly GUI supports the design and simulation engineers who need to deal with various vehicle models, regulations/assessments, and simulation cases.
Pre-simulation
An automobile crash simulation might require simulation results performed prior to the crash simulation: H-point measuring and seating simulations. The J-SEATdesigner GUI supports the performing of such pre-simulations. Users can import the results of a pre-simulation via the J-SEATdesigner GUI and then proceed to build a model efficiently.
Developers
Strong support by JSOL
JSOL offers a powerful, wide range of support for the utilization and application of J-SEATdesigner.
Please contact us for details.
*Product names and service names are the trademarks or the registered trademarks of their proprietors.